Shaw Reads: Passage to Juneau, by Jonathan Raban
Meeting Date: Thursday, October 22, 2020
Time: 6:30 p.m. – 8:30 p.m.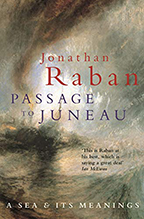 With all of our summer events canceled due to Covid-19, we've yearned to connect with our fellow Shavians and deepen our community bonds. Shaw Reads was born of this desire. Modeled on the wildly successful "One Book, One City" program launched by Nancy Pearl at Seattle's Public Library in 1998 which has since been adopted by many other communities across America, Shaw Reads is our new community reading program that once a year encourages Shavians to read and discuss the same book.
For our first Shaw Reads book, we've chosen Passage to Juneau: A Sea and its Meanings, byJonathan Raban. National Book Critics Circle Award-winning author Raban is one of our most accomplished contemporary authors, and he happens to live in Seattle. He has graciously offered to participate in our discussion on October 22 at 6:30 p.m.
Passage to Juneau, published in 1999, is a favorite of both critics and readers. Having just enjoyed its twentieth anniversary in print, the book has a timeless quality. The Washington Post Book World called Passage to Juneau "a work of great beauty and inexhaustible fervor." Edward Marriott, writing for the Evening Standard, wrote of the book: "A thrilling adventure and a telling internal exploration…the writing contains natural description of breathtaking exactness…and the sea itself—in all its moods—has surely never been so intricately painted." And book critic Douglas Kennedy of the Independent wrote, "Raban is, for my money, one of the key writers of the past three decades—not only for his immense stylistic showmanship, but also for the way he has taken that amorphous genre call 'travel writing' and utterly redefined its frontiers… Passage to Juneau is his finest achievement to date."
In the book, Raban brings his vast erudition and incisive humor to the history and present of the Pacific Northwest. His journey from Seattle through the famed Northwest Passage mirrors that of the 1792 expedition made by Captain George Vancouver on the Discovery. "Captain Van's" journals, along with numerous Native American sources, help Raban bring vividly to life what this part of the world was like more than 200 years ago, along with trenchant observations of its modern-day incarnation.
As he prepares to launch, Raban notes, "I had a boat, most of a spring and summer, a cargo of books and the kind of dream of self-enrichment that spurs everyone who sails north from Seattle… Forget the herring and the salmon: I meant to go fishing for reflections and come back with a glittering haul. Other people's reflections, as I thought then. I wasn't prepared for the catch I eventually made."
Not only does everyone on Shaw Island have a relationship with the sea, but with Covid-19, many of us are yearning for an adventure and a guide to help us make sense of our world. Raban supplies both. Above all, though, no reason is more compelling than the book is a cracking good read. And not to be overlooked, Passage to Juneau dovetails with the Shaw History soon to be published by the Shaw Island Library & Historical Society.We hope many of you will join us in this fun community event and enjoy the wit and charm of Jonathan Raban, who is surely one of the most distinguished authors to have visited Shaw (albeit virtually).
Email us at shaw@rockisland.com to let us know you want to be included, and we will add you to our list of participants. As the date approaches, we will send you a Zoom link for the discussion with Raban and the opportunity to submit questions for the author. For those that are interested, after Raban's discussion, you can join in small (online) groups to talk about the book led by librarians Anne Wysocki and Elaine Griffin, and me.
The library has stocked up on copies of the book, which are available for our no-contactSaturday pickups. For those who wish to add Passage to Juneau to your home library (it bears rereading), it is widely available from booksellers everywhere (Elliot Bay Books and Amazon, amongst others, will ship it directly to you). It is also available through the Washington Anytime Library, if you have a Shaw Library e-card.
On behalf of the Shaw Island Library & Historical Society Board and the librarians, I thank you for considering this "One Book, One Island" event. Let's make it a grand success!
Sincerely,
Louis Whitford, Shaw Island Library & Historical Society Board Member