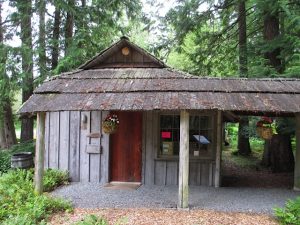 (excerpted, with permission, from the address given by Alex MacLeod on the occasion of the 50th Anniversary of the Shaw Island Library and Historical Society)
Like many stories, the narrative for the Shaw Island Library begins at the Shaw Store, or, more accurately in the Post Office which, in those days, was located in the back of the store.
The Postmaster was Mabel Fowler Crawford, sister of Frank, born on Shaw and a lover of books. When Don and Gwen Yansen owned and operated the store in the late 50s and early 60s, Mabel set up a shelf where people could leave and take books. By all accounts, it was an active shelf and is regarded as the earliest origins of the library & historical society.
Mary Lou Clark, who replaced Mabel as Postmaster when Mabel retired and the Yansens sold the store to the Leidigs, kept the book shelf. By then, though, the number of books had risen to near 500 and more room was needed, so most of the books moved to the Blind Bay home of Lyman and Edna Purviance.
I need to pause and say a few words about the Purviances.
After serving 30 years in the Marines, fighting on Iwo Jima and elsewhere in the Pacific, Lyman Purviance and his wife, Edna, made a visit to Shaw in 1956. At the head of Blind Bay, there was a sign advertising an 86-acre farm with an artesian well, a quarter-mile of waterfront and an old house. The price was $14,000. This had been the Griswold homestead. The house was where the big red house is today.
Proving that Shaw has always been home to curious and talented people, Edna was a poet of sorts, as well as a mother of four and a lover of books. She later published a book of her work which she called "The Diary of a Haiku-Happy Housewife." All haiku, season by season, set on Shaw and around Bellingham. You can't make up stuff like this.
When Lyman and Edna moved to Bellingham, the books moved to a room in Frank and Elsie Fowler's house on what we know as The Old Fowler Farm. But as Babs Cameron (much more on her in a moment) wrote to Helen Gray about that arrangement, "It was found that people were loath to intrude in a private home to obtain reading material."
The Yansens, who had been very supportive of the book shelf in the store, agreed and felt it was time for a real library. So did Fran and Andy Hilen, who had made a summer home on a large parcel between what we know as the Cedar Rock Preserve and the Hoffman Place.
Andy was a distinguished professor of English at the University of Washington and an amateur historian. He took the lead in writing a letter to all islanders — you can still almost smell the mimeograph ink used for copies in those days — proposing the idea of a library and historical society and asking for expressions of interest.
Interest was strong. That led to an organizing meeting that concluded with the adoption of Articles of Incorporation  dated July 16, 1966 — exactly 50 years ago today. Much of the drafting was done by Bill Hennessey, a Seattle lawyer with a place at Neck Point Coves.
Among those also intent on bringing a library and museum to reality were Malcolm — most called him Coonie — Cameron, his wife, Margaret — known to all as Babs —and Zora Gross. As Babs recounted nearly 20 years later:
"Zora Gross felt strongly that we should have a building to house our books and so, characteristically, she did something about it. One day she called Coonie and me to go with her to see the land that was being logged by Jim Buzzard and the acre plots that he had staked out  from the present library site to the beginning of the Don Clark property.
"We all liked the corner lot, so we went slogging through the wet woods to find Mr. Buzzard. After some friendly dickering, Zora bought the corner acre and we bought the one to the east. We each deeded our property to the Library & Historical Society — and the project was underway."
This was the winter of 1967. There was still a ways to go. Money needed to be raised and something needed to be designed. Coonie Cameron, an architect, donated the design, and the community took care of raising the money. By 1970, a museum and library were built and dedicated.
I'd like to pause again to say some additional words about Fran and Andy Hilen, the Camerons, Zora Gross and Gwen Yansen.
Don and Gwen bought the old Biendl farm in 1953, spent summers here and moved to Shaw in 1959 when they finished building their house. When you go through the records of the Library and Historical Society, year after year you see their hands, especially Gwen's. Gwen loved the library like few others and organized and worked with many others to turn its grounds into something beautiful. When I see the crocus and daffodils in spring and the hanging baskets in summer, I think of Gwen, a quintessential Shaw Islander. We were lucky to have her with us for so long.
Frances (Fran) Gilmore grew up in Los Angeles, the daughter of a family that had struck it rich with oil. Andy Hilen had been raised in Mount Vernon and then Seattle. His father, a lawyer, and Fran's father were both serious hunters, which is how they met, and Fran's father later hired Andy's dad to do legal work. One day the dads decided their kids should meet…and a match was made.
Andy knew the islands from his childhood. In the mid-50s they bought an old homestead and set up living quarters in its former granary. The accommodations were very, very basic. Despite having grown up prosperous in L.A., Fran fell in love with Shaw and the family spent much time on the island.
In addition to getting the Library & Historical Society organized, Andy contributed a couple of interesting and important monographs to the collection of island history: one a history of Capt. John Shaw, an otherwise undistinguished Navy officer who never set foot — or boat — in the San Juans, and the other a history of the island's only known murder. Both are available at the library, as is a recording of him reading the latter.
For years, Fran gave the organization her time, energy and intellect, and her family's foundation regularly contributed financially. It began with a check for $5,000 in 1968, a time when $5,000 was real money, and the first time the foundation had made a contribution outside the state of California. Their daughter, Tina Hilen Mandt, has served on the Library & Historical Society Board.
Zora lived in San Francisco. The best man in her wedding had inherited a place on Orcas, which Zora visited. She loved the island and tried to buy a parcel from her friend. When that fell through, Rich Exton, the Orcas realtor who put together the Neck Point Coves development, brought her by boat to Shaw, where she bought land , built a house and became a force in the community.
In addition to buying and donating land for the library, Zora donated the logs from one of Shaw's early post offices to be reconstructed as the museum building, and she privately paid for the 42-inch, custom-cut cedar shakes that Coonie's design called for in the building of the library, museum and breezeway. Few at the time knew of her generosity, but it is clearly reflected in the early records of the organization.
Coonie and Babs lived in a house they had designed at Neck Point on what now is Cameron Lane. In addition to his architecture, Coonie was a noted pen-and-ink artist and Babs was a noted sculptor. Naturally, Coonie volunteered to design the new library and historical society.
His design always called for the placement of a reef net boat to capture an important piece of the island's early history in a very visible way. A reef-netter was also the subject of one of his pen-and-ink drawings and became the logo of the organization.
Babs and Coonie talked Lloyd Lillie into donating an old reef-net boat, which Wayne Fowler moved to the library grounds. When it finally rotted another boat was placed on the site in 1998— but it was deemed too large and just not right for the site. (Someone painted the name "Feng Sui" on its bow not long before it was hauled off.)
It was replaced in 2000 by a boat Peter Christensen built just for the site. It was paid for by Gwen and Fran in order to end what had become known as "The Year of the Boat." Note cards were printed to remember the year.
But back to the beginnings.
Membership dues were set at $1 per year. One could buy a lifetime membership for $25. In November of 1966, there were 33 lifetime members and 94 annual members, for a total of $919. When that wasn't enough, a group of 20 "Friends of the Library" was organized, with each contributing $20 a year, to make up the revenue shortfall. It wasn't until 1994 that dues rose to $5 annually or $50 for lifetime memberships and they haven't been raised since. We now have almost 400 lifetime members and about 40 annual members. As a result, we've moved to fundraising events — mainly our New Year's Eve gala — and donations to fund the organization.
The first part of the library and the breezeway were built, and the museum building assembled and roofed, by Henry Hoffman and his uncle, Loyal, with many others pitching in. It was dedicated in the summer of 1970.
Pretty soon there were more books than space. With Coonie having died, Babs (who had studied architecture at Cornell and had been involved in much of Coonie's architectural career) and their architect son-in-law stepped in and designed a second room, known initially as The Gallery, which was dedicated in 1978, and the third room, which houses the DVDs, biographies and the non-fiction collection, in 1986. That was built by Skip Bold, who later designed and built the back breezeway and library/museum office and storage space, dedicated in 2003. (end of MacLeod history)
Currently: The library and museum have about 2,000 visitors each year. They check out approximately 1,200 books and an equal number of videos. The library also has a selection of magazines and local newspapers, a copier and a computer with internet access available to all members.
The Shaw Island Library and Historical Society generates all its operating funds from donations and relies heavily on volunteers in order to provide its services, making it one of the last such organizations in the state.