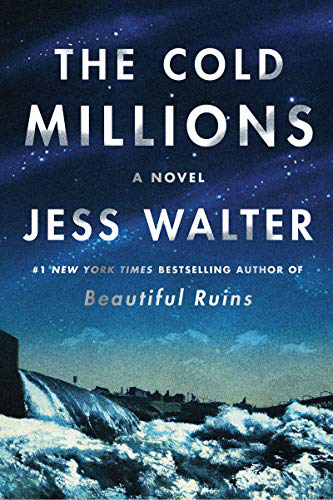 2021: The Cold Millions, by Jess Walter
Saturday, October 16, 4pm
If you haven't already heard, our Shaw Reads book for 2021 is national bestseller The Cold Millions by Jess Walter.
The Washington Post selected the book as one of their top ten reads of 2020, and the New York Times listed it in their best historical fiction of 2020. We are thrilled that Jess Walter will join us in person on October 16 to discuss the novel — mark the date on your calendar.
If you haven't read it already, check it out from our library or purchase it from your local bookstore.
……………
Due to Covid-19 concerns, we are holding this event as both a live event and virtually.
LIVE LOCATION: Andy Thomas and Caryn Buck's barn, 252 Shady Lane, Shaw Island
Andy and Caryn's barn is our "outdoor equivalent" venue. We will be sure there's plenty of airflow and seating will be physically distant. Please dress appropriately if it's cool. There are no restroom facilities at the barn, so please plan accordingly.
There is some parking available at the farm near the house. We encourage carpooling. Enter the farm off Shady Lane. (From the Community Building: Head south on Squaw Bay Rd, make the first left on Midway, and another quick left on Shady Lane. The road dead ends at their farm.)
ZOOM: The event will be simulcast via Zoom. To register for the webinar please sign up on Eventbrite.
A little glowing press:
"The Cold Millions is a work of irresistible characters, harrowing adventures and rip-roaring fun. In a country of amnesiacs that observes Labor Day with all the energy of a repressed yawn, this story is a rousing celebration of the forgotten heroes who devoted their lives and shed their blood to ensure the dignity of American work." – Ron Charles, Washington Post
"Walter has made a major career out of the minor character, and his portrait of Rye … is generously brought to life with humanity and wit. Walter's latest novel is more hybrid beast than those earlier books: not quite fiction and not history but a splicing of the two, so that the invented rises to the occasion of the real and the real guides and determines the fate of the invented…. Which isn't to say the book lacks brio or invention; it is full of both." – New York Times Book Review
"The Cold Millions is a literary unicorn: a book about socio-economic disparity that's also a page-turner, a postmodern experiment that reads like a potboiler, and a beautiful, lyric hymn to the power of social unrest in American history. It's funny and harrowing, sweet and violent, innocent and experienced; it walks a dozen tightropes. Jess Walter is a national treasure." –Anthony Doerr, author of All the Light We Cannot See
A Best Book of the Year: Bloomberg | Boston Globe | Chicago Public Library | Chicago Tribune | Esquire | Kirkus | New York Public Library | New York Times Book Review (Historical Fiction) | NPR's Fresh Air | O Magazine | Washington Post | Publishers Weekly | Seattle Times | USA Today
---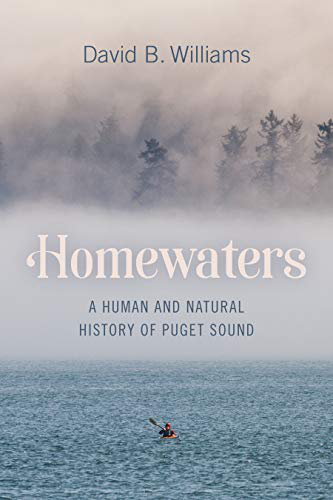 David B. Williams
September 18 at 7:00 pm
David B. Williams is a geologist and natural history writer. His new book, released this April, is titled Homewaters: A Human and Natural History of Puget Sound. It explores the long history of the waterway to show the complex connections among people, place, plants, and animals. His goal is to provide the context to help modern people understand our past and how we can work to make a better future for the Sound and all of its inhabitants.
Some praise for Homewaters:
"I highly recommend Homewaters for its in-depth analysis of our surroundings right here where we live. Well written and very readable."
–Lola Deane
"In this storied blend of cultural and natural history, we find not only a new understanding of the past but a pathway to the relationships and reciprocity that are essential for every dimension of Puget Sound's future."– Lynda Lynn Haupt, author of Mozart's Starling
"Williams's thorough research is presented in a beautiful narrative that is not only entertaining but informative and will transform our understanding of the region."– Joseph K. Gaydos, coauthor of The Salish Sea: Jewel of the Pacific Northwest
"[A] highly readable and enjoyable account that connects seemingly disparate threads and weaves together a complex mix of science and humanities that's greater than the sum of its parts – much like Puget Sound history itself."– MyNorthwest
You can see David's talk here.
---
Hedrick Smith
Saturday, Aug. 28,
at 1:30 p.m. on the library lawn

Next up in our Speaker's Series is Hedrick Smith. Hedrick's subject will be "American Democracy Under Assault." Q&A will follow.

Hedrick's first visit to Shaw was the Shaw Island Library and Historical Society's 2012 Annual Meeting, shortly after publication of his book Who Stole the American Dream. He's been back several times, mostly focusing on ways ordinary citizens have mobilized to fight gerrymandering and voter suppression, to encourage public financing of campaigns and limit "dark money," and to change the way the electoral college works.

Hedrick has won two Pulitzer Prizes — for the Pentagon Papers and for his book The Russians — and two Emmys for his PBS documentaries. He continues as executive editor of the web site Reclaim the American Dream.
---
Shaw Island Library & Historical Society Annual Meeting
July 24, 2021

Our Annual Meeting is Saturday, July 24, at 11 a.m. on the library grounds. Our featured speaker is award-winning Seattle Times environmental reporter Lynda Mapes. She'll be speaking about her new book Orca: Shared Waters, Shared Home. The book grew out of her Seattle Times series Hostile Waters, which started in 2018 when Tahlequah carried her deceased calf for 17 days, drawing international attention. Months of intense research are crafted into a moving story of our Southern resident orcas, the challenges they face, and what we can do to improve the health of the Salish Sea. As Lynda says, "Let the Orcas lead us home."
In addition to our featured speaker, the Annual Meeting will contain brief updates from our librarians, treasurer, and other members of the board. This year, there will also be a featured youth speaker who will give a short presentation on Young Adult literature.

---
Shaw Island Library & Historical Society presents novelist and musician Willy Vlautin, author of The Night Always Comes, in conversation with Louis Whitford (a Webinar)
June 24, 7:30 p.m.
An appearance by award-winning author Willy Vlautinis always a special occasion. None other than Ursula K. Le Guin said, "Willy Vlautin is one of the bravest novelists writing. Murderers, cheats, sadists, showy examples of the banality of evil, are easy, but it takes real courage to write a novel about ordinary good people. They don't fit into the cynic's little boxes — they're way too big. The guy working two eight-hour jobs who still can't meet the mortgage but won't let his kids down, the hospital night nurse coping with her crazy mean father and trying to rescue a lost girl — common people, the ones who never get the breaks, the ones who need, and know, compassion. An unsentimental Steinbeck, a heartbroken Haruf, Willy Vlautin tells us who really lives now in our America, our city in ruins."
In the last virtual appearance of our Speakers Series before we move to live events again, Willy Vlautin will be reading from The Night Always Comes (Harper) and discussing the novel with Louis Whitford on June 24 at 7:30 p.m.
---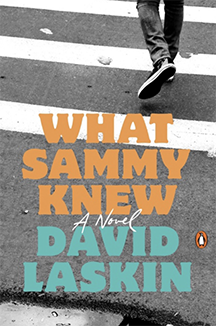 Discussion with David Laskin, author of What Sammy Knew
April 1, 2020, 7pm, online
Join in — for free — as Louis Whitford talks with writer David Laskin; they will discuss Laskin's latest book What Sammy Knew and his other writing, and you will be able to submit questions beforehand. Laskin is the critically acclaimed author of The Family and The Children's Blizzard, which won the Washington State Book Award and Midwest Booksellers' Choice Award for nonfiction. The author of several other works of nonfiction, Laskin writes for The New York Times and The Washington Post. He and his wife, the parents of three grown daughters, live in Seattle.
---