2020
---
Passage to Juneau, by Jonathan Raban
Meeting Date: Thursday, October 22, 2020
Time: 6:30 p.m. – 8:30 p.m.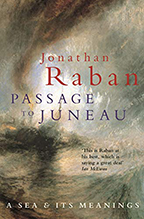 With all of our summer events canceled due to Covid-19, we've yearned to connect with our fellow Shavians and deepen our community bonds. Shaw Reads was born of this desire. Modeled on the wildly successful "One Book, One City" program launched by Nancy Pearl at Seattle's Public Library in 1998 which has since been adopted by many other communities across America, Shaw Reads is our new community reading program that once a year encourages Shavians to read and discuss the same book.
For our first Shaw Reads book, we've chosen Passage to Juneau: A Sea and its Meanings, byJonathan Raban. National Book Critics Circle Award-winning author Raban is one of our most accomplished contemporary authors, and he happens to live in Seattle. He has graciously offered to participate in our discussion on October 22 at 6:30 p.m.
Passage to Juneau, published in 1999, is a favorite of both critics and readers. Having just enjoyed its twentieth anniversary in print, the book has a timeless quality. The Washington Post Book World called Passage to Juneau "a work of great beauty and inexhaustible fervor." Edward Marriott, writing for the Evening Standard, wrote of the book: "A thrilling adventure and a telling internal exploration…the writing contains natural description of breathtaking exactness…and the sea itself—in all its moods—has surely never been so intricately painted." And book critic Douglas Kennedy of the Independent wrote, "Raban is, for my money, one of the key writers of the past three decades—not only for his immense stylistic showmanship, but also for the way he has taken that amorphous genre call 'travel writing' and utterly redefined its frontiers… Passage to Juneau is his finest achievement to date."
In the book, Raban brings his vast erudition and incisive humor to the history and present of the Pacific Northwest. His journey from Seattle through the famed Northwest Passage mirrors that of the 1792 expedition made by Captain George Vancouver on the Discovery. "Captain Van's" journals, along with numerous Native American sources, help Raban bring vividly to life what this part of the world was like more than 200 years ago, along with trenchant observations of its modern-day incarnation.
As he prepares to launch, Raban notes, "I had a boat, most of a spring and summer, a cargo of books and the kind of dream of self-enrichment that spurs everyone who sails north from Seattle… Forget the herring and the salmon: I meant to go fishing for reflections and come back with a glittering haul. Other people's reflections, as I thought then. I wasn't prepared for the catch I eventually made."
Not only does everyone on Shaw Island have a relationship with the sea, but with Covid-19, many of us are yearning for an adventure and a guide to help us make sense of our world. Raban supplies both. Above all, though, no reason is more compelling than the book is a cracking good read. And not to be overlooked, Passage to Juneau dovetails with the Shaw History soon to be published by the Shaw Island Library & Historical Society.We hope many of you will join us in this fun community event and enjoy the wit and charm of Jonathan Raban, who is surely one of the most distinguished authors to have visited Shaw (albeit virtually).
Email us at shaw@rockisland.com to let us know you want to be included, and we will add you to our list of participants. As the date approaches, we will send you a Zoom link for the discussion with Raban and the opportunity to submit questions for the author. For those that are interested, after Raban's discussion, you can join in small (online) groups to talk about the book led by librarians Anne Wysocki and Elaine Griffin, and me.
The library has stocked up on copies of the book, which are available for our no-contactSaturday pickups. For those who wish to add Passage to Juneau to your home library (it bears rereading), it is widely available from booksellers everywhere (Elliot Bay Books and Amazon, amongst others, will ship it directly to you). It is also available through the Washington Anytime Library, if you have a Shaw Library e-card.
On behalf of the Shaw Island Library & Historical Society Board and the librarians, I thank you for considering this "One Book, One Island" event. Let's make it a grand success!
Sincerely,
Louis Whitford, Shaw Island Library & Historical Society Board Member
2019
---

Sat, Aug 24, 2019, at 10:30 AM in the Community Building
A Writer's Life — Dying Industries, Global Markets, World Travel, and the Wonders of Cut, Paste, and Delete
Bill Dietrich was part of a small team that won the Pulitzer Prize for National Reporting in 1990 for coverage of the Exxon Valdez oil spill. He went on to a very successful career writing non-fiction and fiction (mostly mysteries and historical fiction). Bill is incredibly smart, low-key and funny. He has taught at Western Washington University, and has been deeply involved in the North Cascades Institute (an environmental learning/teaching organization). He lives in Anacortes.
Bill describes his talk as a baby boomer's perspective on several decades of challenging change. It will touch on journalism, Northwest non-fiction, his own fiction and the reading and writing landscape in general.
---
Saturday, August 17, and Sunday, August 18, 2019
Two incredible Library Speakers Series events are planned for the weekend of August 17-18:
Sat, Aug 17, at 11 AM (RESERVATION REQUIRED!)
A Guided Walking Tour of the Cedar Rock Preserve
Carson Sprenger will lead an approximately 2-hr walk through the University of Washington's Cedar Rock Preserve. You'll have the opportunity to learn from an environmental and forestry expert about the plants and animals that are at home in the Preserve.
With an undergraduate degree in environmental science, and a master's in forestry — plus a deep connection to both Shaw and the San Juan islands — Carson is the ideal tour guide to answer all your questions about this incredible nature preserve.
You'll learn to identify Douglas firs and grand firs, and the many other native trees of our region. You'll appreciate the many majestic madronas, both deep in the forest, and along its edges. You'll learn about the history of forest fires in the San Juans, and the role these play in nature. You'll surely encounter some of the Preserve's natural fauna — deer, raccoons, river otters, and others on the ground, as well as the many birds above — and learn about the role each of these plays in the balance of nature. You'll also learn about the history of the Preserve, and how it came to be gifted to the University of Washington.
RESERVATIONS ARE REQUIRED. Space is limited for this event! Please send email to cedar.rock.tour@gmail.com to register your interest.
Sun, Aug 18, at 2 PM in the Community Building
The Artisan Cheesemakers of Shaw
Shaw is fortunate to have three noted cheesemakers in residence: Mother Thérèse Critchley, Prioress of Our Lady of the Rock Monastery, brought the monastic cheese­making tradition to Shaw 40 years ago and continues to provide fresh milk and cheese to the islands throughout the San Juans; Gigi Berardi-Allaway is a professor at Western Washington University in environmental studies and specializing in sheep dairying and cheese, has taught University-level classes in cheese­making; and our newest arrival, Mother Noëlla Marcellino, Subprioress of Our Lady of the Rock, is a microbiologist whose research in biodiversity has been featured in the PBC documentary The Cheese Nunand in Cooked, Michael Pollan's book and Netflix series of the same name.
Together, our artisan cheesemakers will share their varied experiences with cow, sheep, and goat cheeses, and introduce both the art, history, and science of cheesemaking. You'll learn about the cheesemaking process from milking to aging and the microorganisms that give each cheese its unique aroma and consistency.
=================================================================
Shaw Island Library & Historical Society ANNUAL MEETING
Saturday, July 27, 2019
COMMUNITY BUILDING
Book Sale at 10 AM; Meeting begins at 11 AM
Please join us for the Library's Annual Meeting this coming Saturday at the Community Building. Our featured speaker will be Jonathan White, author of Tides: the Science & Spirit of the Ocean. Which won both the Pacific Northwest Booksellers Award in 2018 and the Natural Outdoor Book Aware for Natural History in 2017.
"Before you listen to this talk by Jonathan White, you might want to be somewhere by the sea as the moon rises or sets. That would be ideal. If not that, be somewhere where you can search maps of all the far-flung places he'll talk about. You'll likely have that urge." —KUOW Radio, Seattle
New Year's Eve 2018/19 at the Community Building
"Age of Aquarius" / 60s theme party: food, dress up, music (and the traditional raffle and auctions). A good time was had by all.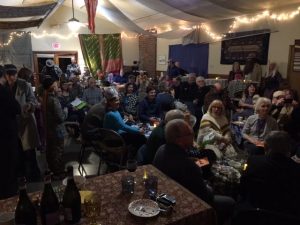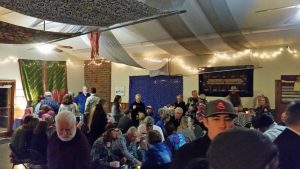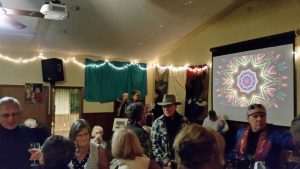 ---
2018
Monday, Nov.5th, 7 pm Shaw Island Community Building
LANGDON COOK
From the award-winning author of The Mushroom Hunters comes the story of an iconic fish, perhaps the last great wild food: salmon.
Upstream: Searching for Wild Salmon, from River to Table
From The Wall Street Journal: In tracing the history and life cycle of these iconic creatures, Mr. Cook embarks on a series of his own journeys—14 nicely episodic chapters that explore how and where such fish still survive in the modern world, despite the threats of logging, dams, the diversion of running water for domestic and commercial uses, overfishing, and climate change. It is a saga that has been told before but seldom with such immediacy and panache…
Sponsored by the Shaw Island Library & Historical Society
Shaw Community Center Saturday, September 1st, 1:00 p.m.
Shaw Island Library and Historical Society presents Hedrick Smith
New York Times Pulitzer Prize-winning journalist, documentarian, author, and public advocate
Taking Back Our Democracy: The People versus The Politicians
Open House and Annual Meeting
Friday, July 27, 4.30 p.m. – 7.30 p.m: At the Library
Library Open House
Babs Cameron sculptures

Facility Improvements
Wine and cheese
Saturday, July 28 : At the Library
10 a.m. Book Sale
11:15 a.m. Annual Meeting
Featured Speaker:
Knute "Skip" Berger (born 1953) is an American journalist, writer and editor based in Seattle, Washington. Berger is a columnist for Crosscut.com, writing under the name "Mossback". He is also Editor-at-Large and a columnist for Seattlemagazine,] author of Pugetopolis, and former longtime editor of the Seattle Weekly. His writing focuses on Pacific Northwest subjects including heritage, culture, politics and historic preservation. Berger writes frequently about World's Fairs, seven of which he has attended, including the Century 21 Exposition in his hometown of Seattle. In 2011, Berger was named "Writer in Residence" at the landmark of the 1962 Century 21 Expo, the Space Needle, in anticipation of the Expo's Fiftieth Anniversary. Commissioned by the owners of the Space Needle, he penned its official history for the anniversary in Space Needle: The Spirit of Seattle, published in 2012.
Prepping for the new carpet at the Library! (Photos courtesy of Nancy Pierce) — Carpet Installation now completed; come by and check it out!
Shaw Island Library and Historical Society Speaker Series presents…
Bill Whitford of
Gill v. Whitford, the landmark case regarding Gerrymandering now before the US Supreme Court
William ("Bill") Whitford is responsible for bringing this important case regarding partisan gerrymandering to the US Supreme Court. Bill is emeritus professor of the law at the University of Wisconsin, Madison, and a frequent visitor to Shaw. Bill will speak about the case: how it began, the issues before the Supreme Court, and what might happen next.

Saturday, June 16, 2018 at 1 PM
at the Shaw Island Community Building.
Shaw Island Library and Historical Society Lecture: Gardening with FernsFacts and Photos with Tales and Tidbits from The Plant Lovers Guide to Ferns
January 20, 2018, 3:15 pm (* delayed start time to accomodate those travelling in on the Anacortes ferry)
Shaw Island Community Center
Ferns are one of the most diverse groups of plants for shade. Richie has been growing, studying and collecting ferns for over twenty years and is an enthusiastic advocate for their use in the gardens of today. Get expert information on how to use these interesting plants effectively in the landscape and learn about their historical use in gardens. See some of our best native ferns for our gardens along with exotics from around the world that are true performers. This lusciously photographed lecture features clever garden feature that anyone can create at home. Richie Steffen is co-author and co-photographer of The Plant Lover's Guide to Ferns and an experienced fern grower.
Richie Steffen: Few people have a passion for plants or an excitement about gardening more than Richie Steffen. Richie is the director/curator for the Elisabeth C. Miller Botanical Garden where he manages the Garden, rare plant collections and oversees the primary educational program of the Miller Garden: Great Plant Picks. GPP is committed to building a comprehensive palette of outstanding and reliable plants for maritime Pacific Northwest gardens. Having an interest in plants and gardening from a young age, Richie has developed this into a lifelong career spanning over 30 years. Studying plants, particularly ferns, in the wild and in gardens around the world has given him an appreciation for the diversity of flora and vegetation gardeners of today have at their disposal. A noted lecturer and horticultural personality, Richie, is the co-author and co-photographer of the Plant Lover's Guide to Ferns and the President of the Hardy Fern Foundation.
Join us for another special New Year's Eve event at the Community Center! Sunday, Dec. 31, 6-9 pm. Appetizers, Beer & Wine & Hot-Buttered Rum. Small Auction and Raffle. $20 at the door. Sign up sheet at the Kiosk.
Special Offering (first 20 to sign up/purchase): BARN DINNER June 23, 2018, at Bay Head Farm – 20 seats available. Sponsored by Tina Hilen, Corinne Storey, Jody Schmidt and Caryn Buck. Featuring recipes from the Shaw Island Library Cook Book archives, with a locavore bent. (Estimated value: $50 per person)
AUCTION ITEMS
LOAD of GRAVEL from Hardy (Estimated value: $600)
PIANO CONCERT for 6-12 – Grisha Krivchenia house concert at the Brantigans' in May of 2018, with wine and nibbles provided by Annette and Jaime Smith. (Estimated value: $450 )
HELICOPTER RIDE FOR 4 in the Brantigans' "bird"with a commercial FAA Pilot – Fly to Roche Harbor for lunch or tour the islands at your leisure. Mutually agreeable date during our good weather seasons. One hour of flight time. (Estimated value: $1500 )
BOAT RIDE TO YELLOW ISLAND FOR 2 – Join Doug Crosby on a mutually agreeable date to see the wild flowers in bloom on Yellow Island, considered by many to be one of the Nature Conservancy's most beautiful preserves. "The native grasslands on Yellow Island are unique and an absence of grazing has preserved the diversity of native plants. More than 50 species of wildflowers, including broadleafed shooting star and hairy Indian paintbrush bloom on Yellow Island. The only cactus species native to western Washington, the brittle prickly pear cactus, also makes its home on the island." (Estimated value: Bloomin' priceless!)
ED'S SMOKED SALMON – A 3 pound box of Ed Luttrell's incomparable smoked salmon. (Estimated value: $100)
PRIVATE 4TH OF JULY FIREWORKS VIEWING for 8 – Take in the Lopez and Friday Harbor shows from Gil and Delney Hilen's place across from the Cedar Rock Preserve. Dessert and beverages included. (Estimated value: Explosive!)
SOAPSTONE SALMON CARVING – Attributed to Gene Drake, this soapstone carving is from the estate of Keith Jefferts and was a symbol of his commitment to saving wild salmon. The carving is approximately 30" long and 18" tall. The starting bid will be $500. (Appraisal value: $6,000)
RAFFLE ITEMS:
-2 sets of 6 library mugs (blue glass)
-2 book sets (one children, one on birds)
– Christensen GC (Caryn)
-Basket of "board wines" (all)
-GC to Pelican Bay books (Annette)
---
2017
Friday, August 11, 6-7pm:
Poetry Reading at the Community Building:
Jennifer Boyden
Winner of the Brittingham Prize for Poetry (2010) and the Four Lakes Prize for Poetry (2013), Jennifer Boyden is a freelance editor, workshop instructor, and speaker. She has taught writing, literature, and research courses at Suzhou University in China, Eastern Oregon University, Whitman College, The Sitka Center for Arts and Ecology, Walla Walla Community College, and at a variety of workshops and writing series. She lives in Friday Harbor, WA.
Jennifer Boyden is the author of:
The Declarable Future (University of Wisconsin Press, 2013)
Winner of The Four Lakes Prize in Poetry, 2013
and
The Mouths of Grazing Things (University of Wisconsin Press, 2010)
Winner of The Brittingham Prize in Poetry, 2010