New Year's Eve 2018/19 at the Community Building
"Age of Aquarius" / 60s theme party: food, dress up, music (and the traditional raffle and auctions). A good time was had by all.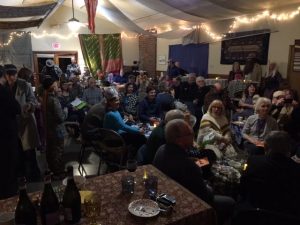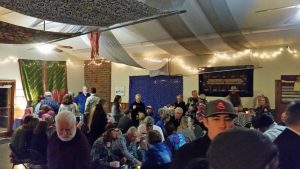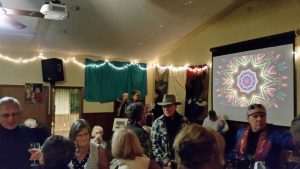 Monday, Nov.5th, 7 pm Shaw Island Community Building
LANGDON COOK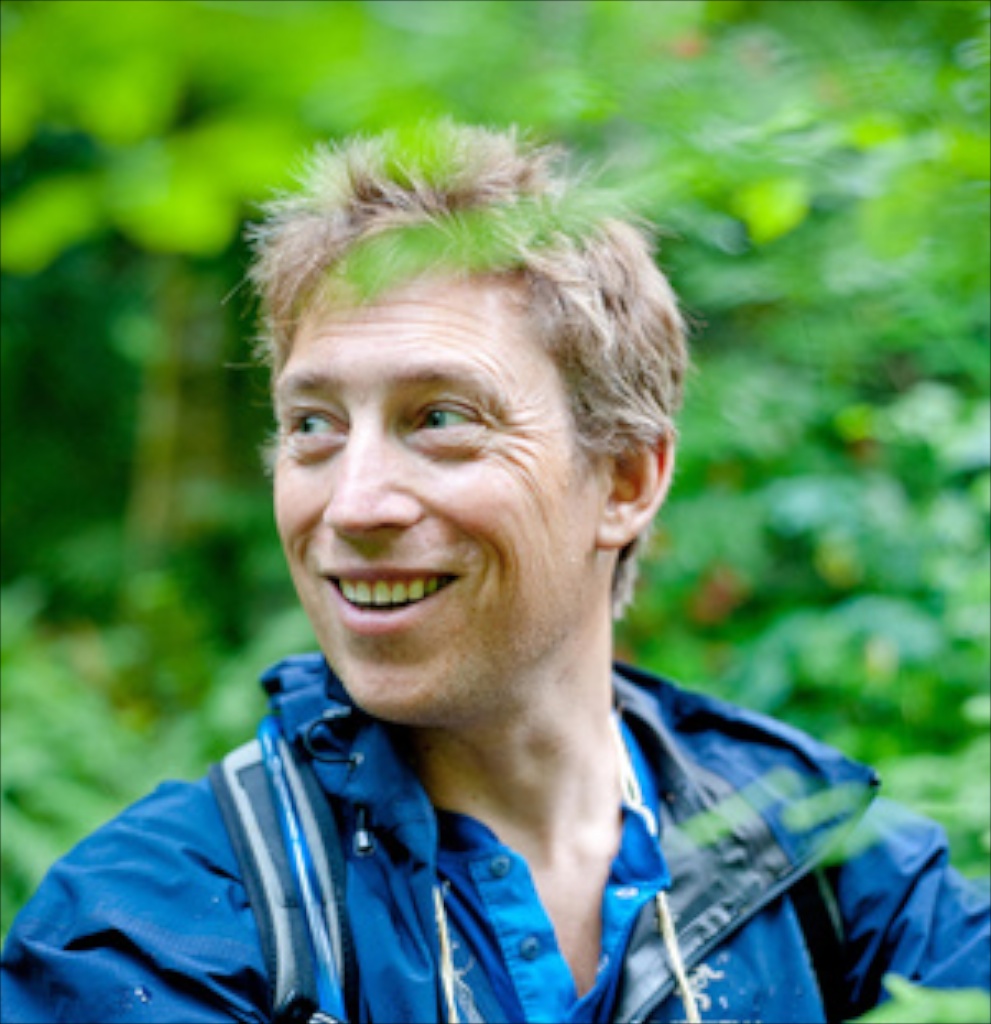 From the award-winning author of The Mushroom Hunters comes the story of an iconic fish, perhaps the last great wild food: salmon.
Upstream: Searching for Wild Salmon, from River to Table
From The Wall Street Journal: In tracing the history and life cycle of these iconic creatures, Mr. Cook embarks on a series of his own journeys—14 nicely episodic chapters that explore how and where such fish still survive in the modern world, despite the threats of logging, dams, the diversion of running water for domestic and commercial uses, overfishing, and climate change. It is a saga that has been told before but seldom with such immediacy and panache…
Sponsored by the Shaw Island Library & Historical Society
Shaw Community Center Saturday, September 1st, 1:00 p.m.
Shaw Island Library and Historical Society presents Hedrick Smith
New York Times Pulitzer Prize-winning journalist, documentarian, author, and public advocate
Taking Back Our Democracy: The People versus The Politicians
Open House and Annual Meeting

Friday, July 27,  4.30 p.m. – 7.30 p.m: At the Library
Library Open House
Babs Cameron sculptures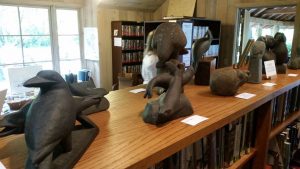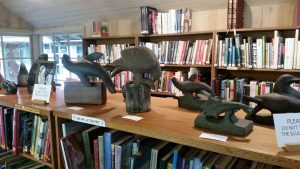 Facility Improvements
Wine and cheese
Saturday, July 28 : At the Library
10 a.m. Book Sale
11:15 a.m. Annual Meeting
Featured Speaker: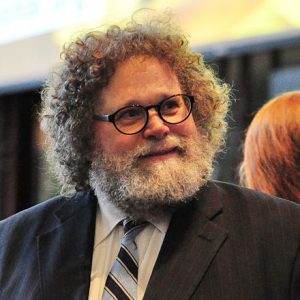 Knute "Skip" Berger (born 1953) is an American journalist, writer and editor based in Seattle, Washington.  Berger is a columnist for Crosscut.com, writing under the name "Mossback". He is also Editor-at-Large and a columnist for Seattle magazine,] author of Pugetopolis, and former longtime editor of the Seattle Weekly. His writing focuses on Pacific Northwest subjects including heritage, culture, politics and historic preservation. Berger writes frequently about World's Fairs, seven of which he has attended, including the Century 21 Exposition in his hometown of Seattle. In 2011, Berger was named "Writer in Residence" at the landmark of the 1962 Century 21 Expo, the Space Needle, in anticipation of the Expo's Fiftieth Anniversary. Commissioned by the owners of the Space Needle, he penned its official history for the anniversary in Space Needle: The Spirit of Seattle, published in 2012.
Prepping for the new carpet at the Library! (Photos courtesy of Nancy Pierce) — Carpet Installation now completed; come by and check it out!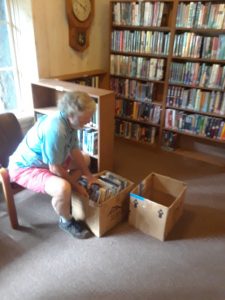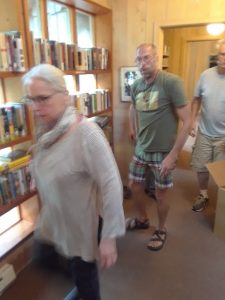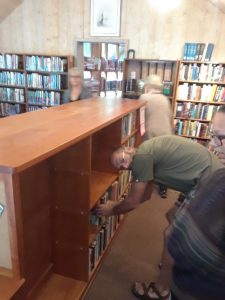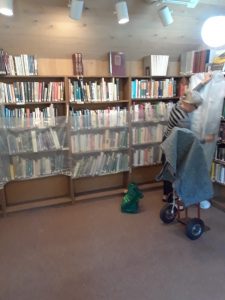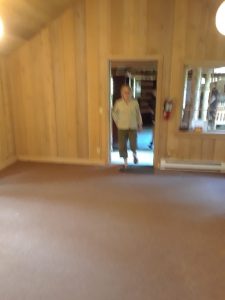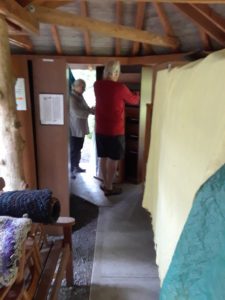 Shaw Island Library and Historical Society Speaker Series presents…
Bill Whitford of
Gill v. Whitford, the landmark case regarding Gerrymandering now before the   US Supreme Court

William ("Bill") Whitford is responsible for bringing this important case regarding partisan gerrymandering to the US Supreme Court. Bill is emeritus professor of the law at the University of Wisconsin, Madison, and a frequent visitor to Shaw. Bill will speak about the case: how it began, the issues before the Supreme Court, and what might happen next.
Saturday, June 16, 2018 at 1 PM
at the Shaw Island Community Building.
Shaw Island Library and Historical Society Lecture: Gardening with FernsFacts and Photos with Tales and Tidbits from The Plant Lovers Guide to Ferns
January 20, 2018, 3:15 pm    (* delayed start time to accomodate those travelling in on the Anacortes ferry)

Shaw Island Community Center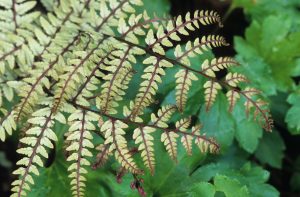 Ferns are one of the most diverse groups of plants for shade. Richie has been growing, studying and collecting ferns for over twenty years and is an enthusiastic advocate for their use in the gardens of today. Get expert information on how to use these interesting plants effectively in the landscape and learn about their historical use in gardens. See some of our best native ferns for our gardens along with exotics from around the world that are true performers. This lusciously photographed lecture features clever garden feature that anyone can create at home. Richie Steffen is co-author and co-photographer of The Plant Lover's Guide to Ferns and an experienced fern grower.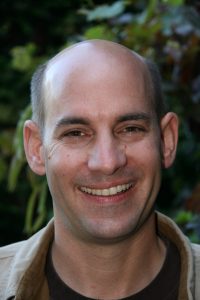 Richie Steffen: Few people have a passion for plants or an excitement about gardening more than Richie Steffen. Richie is the director/curator for the Elisabeth C. Miller Botanical Garden where he manages the Garden, rare plant collections and oversees the primary educational program of the Miller Garden: Great Plant Picks. GPP is committed to building a comprehensive palette of outstanding and reliable plants for maritime Pacific Northwest gardens. Having an interest in plants and gardening from a young age, Richie has developed this into a lifelong career spanning over 30 years. Studying plants, particularly ferns, in the wild and in gardens around the world has given him an appreciation for the diversity of flora and vegetation gardeners of today have at their disposal. A noted lecturer and horticultural personality, Richie, is the co-author and co-photographer of the Plant Lover's Guide to Ferns and the President of the Hardy Fern Foundation.
  Join us for another special New Year's Eve event at the Community Center!  Sunday, Dec. 31, 6-9 pm. Appetizers, Beer & Wine & Hot-Buttered Rum. Small Auction and Raffle. $20 at the door.  Sign up sheet at the Kiosk.

Special Offering (first 20 to sign up/purchase): BARN DINNER June 23, 2018, at Bay Head Farm – 20 seats available.  Sponsored by Tina Hilen, Corinne Storey, Jody Schmidt and Caryn Buck.  Featuring recipes from the Shaw Island Library Cook Book archives, with a locavore bent.  (Estimated value:  $50 per person)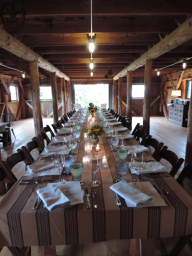 AUCTION ITEMS
LOAD of GRAVEL from Hardy  (Estimated value: $600)
PIANO CONCERT for 6-12 – Grisha Krivchenia house concert at the Brantigans' in May of 2018, with wine and nibbles provided by Annette and Jaime Smith.  (Estimated value: $450 )
HELICOPTER RIDE FOR 4 in the Brantigans' "bird"with a commercial FAA Pilot – Fly to Roche Harbor for lunch or tour the islands at your leisure.  Mutually agreeable date during our good weather seasons.  One hour of flight time.  (Estimated value: $1500 )
BOAT RIDE TO YELLOW ISLAND FOR 2 – Join Doug Crosby on a mutually agreeable date to see the wild flowers in bloom on Yellow Island, considered by many to be one of the Nature Conservancy's most beautiful preserves.  "The native grasslands on Yellow Island are unique and an absence of grazing has preserved the diversity of native plants. More than 50 species of wildflowers, including broadleafed shooting star and hairy Indian paintbrush bloom on Yellow Island. The only cactus species native to western Washington, the brittle prickly pear cactus, also makes its home on the island."  (Estimated value: Bloomin' priceless!)
ED'S SMOKED SALMON – A 3 pound box of Ed Luttrell's incomparable smoked salmon. (Estimated value:  $100)
PRIVATE 4TH OF JULY FIREWORKS VIEWING for 8 – Take in the Lopez and Friday Harbor shows from Gil and Delney Hilen's place across from the Cedar Rock Preserve.  Dessert and beverages included.  (Estimated value: Explosive!)
SOAPSTONE SALMON CARVING – Attributed to Gene Drake, this soapstone carving is from the estate of Keith Jefferts and was a symbol of his commitment to saving wild salmon.  The carving is approximately 30" long and 18" tall.  The starting bid will be $500.   (Appraisal value:  $6,000)
RAFFLE ITEMS:
-2 sets of 6 library mugs (blue glass)
-2 book sets (one children, one on birds)
– Christensen GC (Caryn)
-Basket of "board wines" (all)
-GC to Pelican Bay books (Annette)
*******
Friday, August 11, 6-7pm:
Poetry Reading at the Community Building:
 

Jennifer Boyden
Winner of the Brittingham Prize for Poetry (2010) and the Four Lakes Prize for Poetry (2013), Jennifer Boyden is a freelance editor, workshop instructor, and speaker. She has taught writing, literature, and research courses at Suzhou University in China, Eastern Oregon University, Whitman College, The Sitka Center for Arts and Ecology, Walla Walla Community College, and at a variety of workshops and writing series. She lives in Friday Harbor, WA.
Jennifer Boyden is the author of:
The Declarable Future (University of Wisconsin Press, 2013)
Winner of The Four Lakes Prize in Poetry, 2013
and
The Mouths of Grazing Things (University of Wisconsin Press, 2010)
Winner of The Brittingham Prize in Poetry, 2010