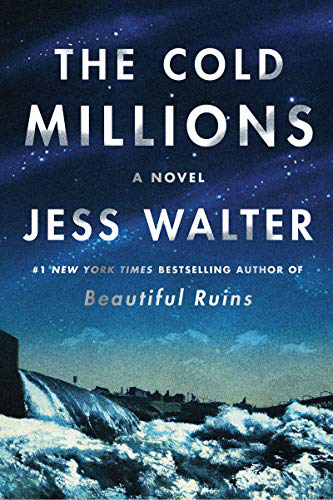 SHAW READS, 2021
If you haven't already heard, our Shaw Reads book for 2021 is national bestseller The Cold Millions by Jess Walter.
The
Washington Post
selected the book as one of their top ten reads of 2020, and the
New York Times
listed it in their best historical fiction of 2020. We are thrilled that Jess Walter will join us in person on
October 16
to discuss the novel — mark the date on your calendar.
If you haven't read it already, check it out from our library or purchase it from your local bookstore. 
A little glowing press:
"The Cold Millions is a work of irresistible characters, harrowing adventures and rip-roaring fun. In a country of amnesiacs that observes Labor Day with all the energy of a repressed yawn, this story is a rousing celebration of the forgotten heroes who devoted their lives and shed their blood to ensure the dignity of American work." – Ron Charles, Washington Post
"Walter has made a major career out of the minor character, and his portrait of Rye … is generously brought to life with humanity and wit. Walter's latest novel is more hybrid beast than those earlier books: not quite fiction and not history but a splicing of the two, so that the invented rises to the occasion of the real and the real guides and determines the fate of the invented…. Which isn't to say the book lacks brio or invention; it is full of both." – New York Times Book Review
"The Cold Millions is a literary unicorn: a book about socio-economic disparity that's also a page-turner, a postmodern experiment that reads like a potboiler, and a beautiful, lyric hymn to the power of social unrest in American history. It's funny and harrowing, sweet and violent, innocent and experienced; it walks a dozen tightropes. Jess Walter is a national treasure." –Anthony Doerr, author of All the Light We Cannot See
A Best Book of the Year:
Bloomberg | Boston Globe | Chicago Public Library | Chicago Tribune | Esquire | Kirkus | New York Public Library | New York Times Book Review (Historical Fiction) | NPR's Fresh Air | O Magazine | Washington Post | Publishers Weekly | Seattle Times | USA
Today
…………………………………………………………………………………………………………